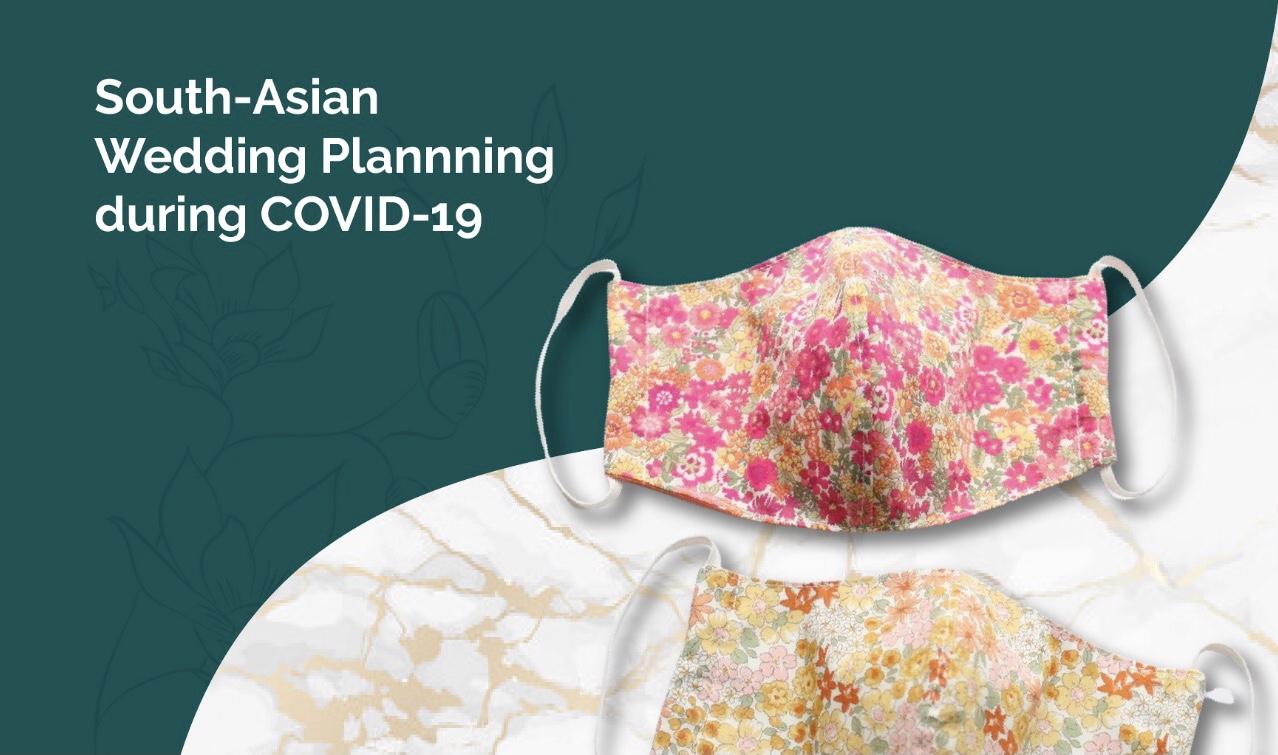 South-Asian Wedding Planning during COVID-19
The celebrations don't stop – we tell you how to safely plan your big day around the pandemic.
South Asian weddings have always been a traditionally lavish affair and a cultural phenomenon with elaborate venues, intricate and expensive attire, and plenty of food items. A typical South-Asain Wedding can last for weeks, including Haldi, Mehndi, Mayun, Reception, Walima, etc. It can often cost a lifetime of saving and months (sometimes years) of planning. They have also become an excuse for de facto family reunions and celebrations, and the guest lists ranging in hundreds tend to reflect this.
Impact of COVID-19 on the Grand Desi Wedding
A lot has changed since the world got hit with the COVID-19 pandemic. Everything from food to the recreational industry has been affected one way or another. There have been reports of numerous people getting ill after attending wedding ceremonies, marquees getting shut down, and countries imposing strict lockdowns to enforce social distancing. As a result, the wedding industry has been hit badly. Event management companies have suffered the loss of billions of dollars. Many people postponed their weddings, hoping that the pandemic would soon pass, but that has not happened. Even as cases do decline in some parts, the need for social distancing remains paramount.
Remember 'Why'
If you are uncertain about the idea of having your wedding amidst this pandemic, try to remember why you're getting married in the first place. The thought that you might miss out on your dream wedding might cause anxiety, but you should remind yourself that it is what marriage represents that matters, not the symbolism of it. Evaluate your relationships and think about how companionship trumps other considerations. Let your love and emotion guide you through the process of decision making and focus your energies on 'why' you have chosen to get married and to whom you're getting married.
REMIND YOURSELF THAT IT IS WHAT MARRIAGE REPRESENTS THAT MATTERS, NOT THE SYMBOLISM OF IT
Pros of Having an Intimate COVID-19 Wedding
COVID-19 has placed the industry on somewhat shaky grounds, but you can still plan your dream wedding during the coronavirus, provided that you follow proper precautions. This means you need to keep the size of the wedding smaller and make it more intimate. These intimate weddings come with less planning, stress, and complications. It results in a more simplified process of planning since the guest size is significantly reduced, and locations become smaller and more private, such as homes, gardens, farmhouses etc.
Intimate weddings allow you to be more relaxed and enjoy your day because you are not as overwhelmed with all the decisions you have to make. With Intimate weddings, several new trends have also emerged, such as the use of personalised masks and sanitisers as a wedding accessory. Intimate weddings are easier to manage and are also relatively cost-effective. They give you the freedom to be creative with details like location and themes. Moreover, intimate weddings also allow you to spend more time with close friends and family since there is a threshold of the number of people who can be allowed in.
INTIMATE WEDDINGS ARE EASIER TO MANAGE AND ARE ALSO RELATIVELY COST-EFFECTIVE
Those aspiring for intimate South-Asian weddings but unable to do so before because of social constraints can now have their way and feel more liberated. Not inviting hundreds of guests or not realising every detail of your dream wedding does not mean that you cannot have fun in a COVID-19 compliant wedding. You can still have traditional dance performances, and rituals. You can still wear your dream attire and get your fantastic photoshoot done. South Asian weddings, and weddings in general, during COVID-19, may be happening more quietly, but they are still happening, and they are still just as special.
Guide to Intimate South-Asian Wedding Planning
If you intend to have an intimate South-Asian wedding, below are basic guidelines to help you in your preparations.
Finding a safe venue for the perfect South-Asian wedding
The only thing that takes as much effort as choosing your wedding attire is finding the perfect venue. The South-Asian Wedding industry is one of the most dynamic industries, and good venues tend to get pre-booked well ahead of time. So, one of the first things you need to put in your checklist is to find a proper venue. While choosing a venue, one important thing to know is how many guests you are anticipating, as this will help you narrow down the search for a venue. If you are planning an intimate wedding, you can either have an outdoor garden wedding at home or avail professional services of a venue for places, such as farmhouses, barns, open forests, etc. It is a good idea to check out online reviews, websites, and pictures of venues before actually exploring them in person.
THE ONLY THING THAT TAKES AS MUCH EFFORT AS CHOOSING YOUR WEDDING ATTIRE IS FINDING THE PERFECT VENUE
Once you know your location, it is then time to select a date. If you select your date before deciding on a location, you may not find the preferred venue. Hence, it is important that the date you select correlates to your venue, weather, and the availability of guests. You can also choose a date that may be significantly important for you and your spouse.
Basic Wedding Planning Ideas/Tips for South Asian Brides
Another important aspect of wedding planning is getting the basics ready, including vendors, food, decor etc.
Finding the Right Vendors
Finding the right vendors and negotiating with them is a big part of the wedding process. It is important for a couple to thoroughly research their preferred vendors and weigh in the pros and cons before reaching a final decision. Make sure that you evaluate the market value and the quality of service a vendor provides before finalising any negotiations about the fee. Also, make sure to collaborate with the vendors and come up with ideas that work for both parties. Sometimes, vendors may give discounts or complimentary services in exchange for a social media post with their name and work. Not all vendors may entertain such possibilities, but at the end of the day, whether it's food vendors, decor vendors, or an all in one event management company, what is important is that you make an informed decision.
Desi Weddings Decor and Details Checklist
Everyone has an idea about how they want their wedding to look and feel like. Whether it is about a colour scheme, a location, a cultural aesthetic, or if you have a unique theme in mind, make sure that the venue, the food, the decor, and most importantly, your attire reflects it. With COVID-19 and small-scale, intimate weddings, you will be a lot less overwhelmed and more able to focus on the details. Moreover, since wedding favours have become a growing trend in South Asian weddings these days, the presence of fewer guests will allow you to go the extra mile in preparing wedding favours. You can do so by adding more to the menu, spending more on your dream wedding dress, or hiring a professional photographer for the big day.
Say YES to Desi Wedding Dress!
Having a COVID compliant wedding does not mean you cannot dress up the way you want. South Asian weddings are known for their exquisite wedding attire and accessories. Every South Asian wedding, no matter how big or small, is an event where every bride looks forward to her wedding day dress. Even if you have a scaled-down wedding due to Covid-19, do not hold back on going big with the dressing and accessories. Get that designer dress you have always wanted. It's your special day, and you deserve the best.
Atiya Choudhury has an exquisite all in one bridal collection. It is the online home to the trendiest South Asian fashion, clothing, and jewellery. Atiya Choudhury operates in Birmingham, in the UK, and it also houses a beautiful showroom in the city centre. The brand works with some of the best artisans to bring you beautiful handmade designs and embroidery for jewellery, clothing, and juttis. Dress shopping can be challenging during this pandemic, but a little hustle for that perfect wedding dress will always be worth it.
EVEN IF YOU HAVE A SCALED-DOWN WEDDING DUE TO COVID-19, DO NOT HOLD BACK ON GOING BIG WITH THE DRESSING AND ACCESSORIES
Go Intimate with Details
Having an intimate COVID-19 wedding relieves you of the pressure of meeting many people you do not know very well and hardly ever see. Intimate weddings give you the advantage of surrounding yourself on this special day with the people you love and care for the most.
Intimate weddings will not overwhelm you, and you can focus your energy towards personalising this day even further. You can have an at-home mehndi ceremony with your bridesmaids, you can make mehndi at home for a more traditional experience, and you can engage in all the rituals leading up to the wedding. You can personalise the decor with rangolis, flower arrangements, fairy lights, candles, fabric etc. You can set up a photo booth for guests, you can make digitised invites for your guests through social media or other platforms, and you can use digital means like streaming to connect with people who can't be with you on the day. The opportunities are endless.

INTIMATE WEDDINGS GIVE YOU THE ADVANTAGE OF SURROUNDING YOURSELF ON THIS SPECIAL DAY WITH THE PEOPLE YOU LOVE AND CARE FOR THE MOST
Even with fewer people, it is essential to adhere to COVID-19 safety protocols during your wedding celebrations. While planning your wedding, you should stay informed about the latest governmental instructions for group gatherings. This will help you arrange the event with less uncertainty. Another thing you can do is a pre-wedding sanitisation regime. Sanitise the area where you are supposed to have the wedding ceremony. Ensure that everyone attending the wedding wears a mask, and you can also add pocket sanitisers as a part of your wedding favours. Ensure that your vendors and planners set up a seating arrangement that is COVID-compliant. Following all these safety protocols will not only help keep things streamlined but will also be beneficial for the health of everyone attending the wedding.

This whole wedding planning period can be very stressful, from coordinating with the groom to setting up a date, and it's okay if you're having pre-wedding jitters or any emotional reaction. It's a life-changing event after all, and you should give yourself as much time to process it as you need. Put aside the worries about having your wedding in a pandemic. It's a celebration of a new beginning, and it does not happen every day; so make the day your own and do not let unnecessary worries stop you from enjoying yourself.