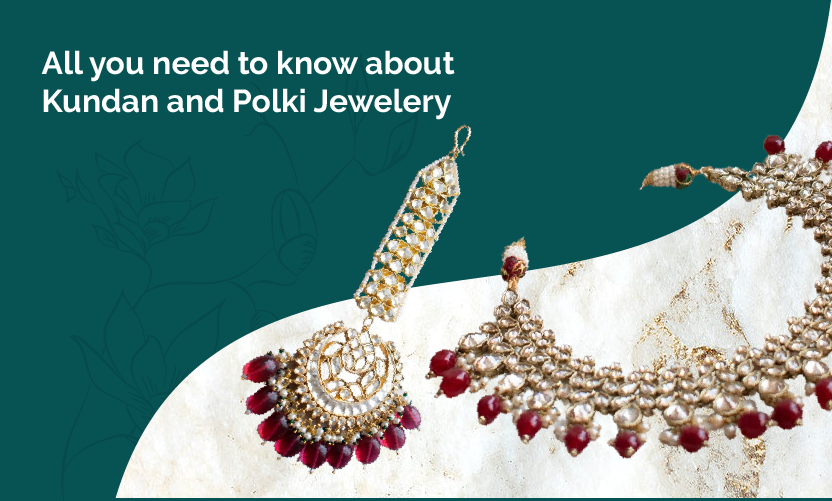 All you need to know about Kundan and Polki Jewellery
Fit the moment by choosing wisely between Kundan or Polki Jewellery – This is what you need to know.
Heavy, embellished, and intricate Jewellery is a trademark of Desi Weddings, which makes choosing the perfect South Asian Jewellery as important as the dress. This jewellery comes in different designs, from the most minimal to the highly intricate, along with various mediums, like Gold, Diamond, Brass, Silver, copper Kundan, Polki etc. The result is a sea of options in bridal Jewellery, making the choice to buy all the more confusing. Unlike the gold, silver, and copper materials, deciding between the Kundan and Polki Jewellery is particularly challenging because the two tend to look the same. But, the two still have very different properties, which can make a big difference in your look. So, before you invest in South Asian wedding Jewellery, you should know more about it.
HEAVY, EMBELLISHED, AND INTRICATE JEWELLERY IS A TRADEMARK OF DESI WEDDINGS
Polki and Kundan Jewellery Compared
Polki is an uncut, unpolished diamond in its raw and earth mined form that has one of its sides flattened and the other shaped to be slightly convex. Uncut means that these diamonds are not faceted or shaved and do not have geometric faces like polished diamonds. These uncut diamonds get a basic cut and polish to make them more presentable, but unlike the polished diamonds, nothing elaborate is done that would redefine their outlook entirely. The uncut diamonds are then secured using gold foils, which secures their beauty for a long time to come. Polki's durability and distinct beauty have made it a classic Asian Wedding Jewellery item that is later passed down as family heirlooms.
POLKI'S DURABILITY AND DISTINCT BEAUTY HAVE MADE IT A CLASSIC ASIAN WEDDING JEWELLERY ITEM THAT IS LATER PASSED DOWN AS FAMILY HEIRLOOMS
There are three prominent types of Polki jewellery; Kilwas Polki, syndicate Polki and Zimbabwe Polki. So whether you are a bride, bridesmaid or wedding guest, if you have an affection for vintage-looking classy jewellery, then Polki is the perfect choice for you. Kundan Jewellery is highly elaborate, with layers of stone and precious metals, coupled with intricate joint work and enamelled undersides. The defining features of Kundan Jewellery are precious and semi-precious polished gemstones that are set in layers upon layers of patterns.
Kundan is quite on par with Polki when it comes to mass appeal. With all its historical and artistic value, Kundan is one of the most famous forms of South Asian Jewellery. Kundan tends to use 24 karat gold foiling in its most original form, but many artificial Kundan Jewellery options are available these days, making it available to even more people. The gold foil is used as the base to hold the stones or glass together. Although a diamond can be used in place of glass, few go down that expensive route. Kundan stones reflect light like a mirror and therefore do not possess that rawness and exceptional quality associated with uncut diamonds in Polki Jewellery.
WITH ALL ITS HISTORICAL AND ARTISTIC VALUE, KUNDAN IS ONE OF THE MOST FAMOUS FORMS OF SOUTH ASIAN JEWELLERY
How are Polki and Kundan Jewellery made?
In terms of manufacturing, both Polki and Kundan are made in the process of Jadau. People often think of Jadau as a type of Jewellery or stone, but it is a traditional technique employed to create Kundan or Polki Jewellery. The literal meaning of the word "Jad" is to be embedded, and that is how the craftsman makes Polki and Kundan Jewellery. The technique, Jadau, is complex and involves a series of tedious steps. This process begins with beating gold on a fragile sheet. The sheet is made up of 24-carat gold which is the base for both jewellery pieces. For Kundan sets, the piece is shaped in the desired Jewellery form using heat, and stones are later set into it, followed by a refined and proper finish. For Polki sets, there is no such finish in the end, but the rest is more or less similar, with the only other major difference being the nature of the stone and the lack of additive chemicals.
The traditional value of Polki and Kundan Jewellery
These fine crafts have a long and rich history, dating back to 2,500 years when the Mughals first introduced these in the Indian subcontinent. Traces of Mughal old-fashioned, vintage cut Polki still influences contemporary designs today. Following the Mughals, uncut diamond Jewellery won the Rajputs' patronage, and eventually, royal families across the South-Indian subcontinent, who adapted it to mirror their personal aesthetics. As a result, Kundan and Polki are deeply rooted in South Asian history and culture, and it is greatly valued as an exemplar of traditional aesthetics. The craftsmanship of Polki and Kundan Jewellery has always been a great tradition in the states of Rajasthan and Gujarat in India. They are considered legacies in many families, and no marriage ceremony is complete without them.
What to choose; Polki or Kundan Jewellery?
Consider the scenario that you are a to-be bride and are looking for slightly cheaper options than diamonds for your South Asian wedding jewellery. In that case, using Polki Jewellery is the best choice for you. It will not only look fancy and exquisite but will also be light on the pocket. If you add a long beaded chain or mala with your Polki bridal Jewellery set, it will make you look apart even more.
On the other hand, Kundan Jewellery is perfect for attending a wedding since it is lighter and affordable. Kundan sets also give a more traditional vibe than Polki, which will make you feel right at home in a South Asian wedding. Even if you are the bride, you can still rock a Kundan set, especially if you are looking for something lowkey yet chic.
TRUE TO ITS NAME, THE MAHARANI HAAR HAS ONLY ONE JOB – TO MAKE YOU FEEL LIKE A QUEEN
Many women who love Kundan Jewellery want to wear it almost daily, but due to the wealthy royal looks, they used to only be able to wear it on special occasions. The market responded and delivered Kundan Jewellery in an open setting. This is done by not using lac to set the glass stones, and instead, gold wires are wrapped around the hardened glass pieces to produce beautiful designs that dazzle from all sides. The back of such Kundan Jewellery keeps its crystal shine as well. Since no lac is used, they are lightweight and can be handled easily. They are cheaper than the original Kundan and can be worn daily, so if you want to look fancy with Kundan daily in a classy yet regal way, this is your best choice.
Get the latest Jewellery Designs at Atiya Chaudhury.
Kundan and Polki Jewellery are beautiful reminders of the Mughals and Rajas who once ruled the South-Indian subcontinent. These are traditional representations of the region's rich heritage and grandeur. Making these intricate pieces is a long and tedious process, but when done right, the end result is one of a kind and worth owning. Atiya Choudhury — a famous Birmingham based brand — sources its Jewellery from the best artisans in the South Asian heartland and brings this very intricacy and richness to its customers in the most authentic way. Atiya Chaudhury understands the emotional and historical connections between South-Asian Jewellery and personal identity and hence provides a unique, comprehensive, and customizable collection of both Polki Jewellery and Kundan Jewellery. These traditional pieces of Jewellery will become an extension of your personality and take your South Asian identity to the next level. So, head on to our website and get shopping!