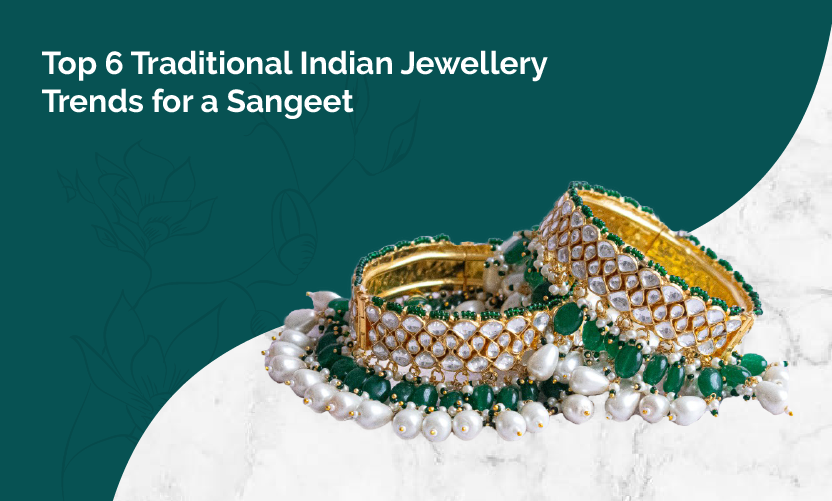 Top 6 Traditional Indian Jewellery Trends for a Sangeet
Look stunning at a Sangeet event with these seven trendy traditional Indian jewellery items.
South Asian traditional weddings are full of pomp and show, and celebratory events are a big part of it. One of the hallmark events leading up to the wedding is Sangeet with all its dance, music and colours. Sangeet is an event to cherish, and to make the most of it, not only do you need the right attitude, you need the right look too. South-Asain weddings are the definition of glamour, and you can't compromise on your look. The look may start with attire, but it is incomplete without the best Jewellery.
The latest trends in South Asian fashion have been towards rediscovering the roots and expressing tradition. As a result, the traditional Indian jewellery collection is now a lot about incorporating the old-world styles with Indo-western contemporary designs and styles.
Each jewellery piece has its dignified place in a bride's trousseau. For every South Asian bride, jewellery is an essential accessory that fosters emotional attachment. Their love for it is enduring. Traditional Indian jewellery is graced with fine craftsmanship, fine detail in design, and a wide range of choices. As soon as you think of bridal jewellery and lehenga, it's an instinctive reaction to start visualising yourself in it; such is the appeal of it.
Traditional Indian jewellery is an important segment of a bride's trousseau and deserves a special place. There are innumerous trends of wearing jewellery that have been introduced over the years, which can make for an overwhelming experience in shopping. In this blog, we make it easy for you by shortlisting the trendiest jewellery picks for your wedding sangeet event. So, if you are a bride-to-be or a wedding guest, here are ten things you need in your wardrobe this wedding season.
SOUTH-ASAIN WEDDINGS ARE THE DEFINITION OF GLAMOUR, AND YOU CAN'T COMPROMISE ON YOUR LOOK
Add a Traditional Captivating Heavy Kundan Necklace
We all know about the sublime beauty of Kundan jewellery. It does, after all, come from a rich cultural heritage of the ancient kingdoms of Rajasthan and Gujarat. The beautiful art of Kundan jewellery is still adorned today with new styles and designs. In addition to Kundan's beauty, it is also very popular because of the ease of carrying, the relatively affordable nature, and the availability of versatile designs that can be used for different events.
For a Sangeet event, a good choice would be to go for a heavy Kundan necklace with gemstones complimenting the colour of your dress. Pair this necklace up with floral jewellery for a holistic sangeet look that strikes the right balance of looking of vibrance and elegance. It is an exquisite combination of royal detailing and a modern look and is something in which every bride or wedding guest should invest. A Kundan necklace is a perfect homage to one's South Asian roots. It is particularly an excellent pick for today's millennial brides who want to maintain a traditional yet modern look.
A KUNDAN NECKLACE IS A PERFECT HOMAGE TO ONE'S SOUTH ASIAN ROOTS
Maatha Patti
Maatha Patti is a jewellery piece that you cannot go without at a sangeet event. It accentuates your features, and what's more, you don't need to add heavy jewellery to compliment it. Sangeet events, in general, go best when you pair up your outfits with seemingly less heavy jewellery, and this is where the Maatha Patti shines.
Embedded with glittering stones and inspired by the Mughal way, Maatha Patti has the essence of a crown and gives you a look of royalty, making you feel like a queen.
Modern fashion trends have made it to Maatha Patti as well, and it now comes in many novel designs and different embellishments. You can pair it up with minimal jewellery like a plain gold chain or floral earrings. No matter how you decide to wear it, the look will be exquisite.
Chandbali Style Earrings
Chandbali earrings are timeless in their beauty and flexible in their utility. You can seamlessly pair them up with your semi-formal or formal, colourful sangeet dress. But you can just as easily match these earrings with almost every other attire, from saree to lehengas or ethnic gowns to stylish kaftans.
Chaandbali earrings make a great statement piece for weddings and festive occasions. You can now find them in different varieties like gold, silver, and oxidised as well. They also come in many styles, from traditional, contemporary, simple, to the most dramatic, and the bride's love to them.
CHAANDBALI EARRINGS MAKE A GREAT STATEMENT PIECE FOR WEDDINGS AND FESTIVE OCCASIONS
Lotus motif earrings
The Lotus flower is on frequent display in Indian weddings, whether in decor or as a gift. It symbolises fertility, prosperity, and beauty, which is a prime feature of South Asian culture. Designers tap into the appeal of lotus motifs to create the most beautiful bridal baubles. Lotus motif earrings blend effortlessly with modern and traditional attire and will make any bride stand out on her wedding day. From heavy necklaces, dangling earrings to bridal bangles, lotus flowers regularly make their way into jewellery design and have taken on a symbolic status as a result. Lotus flower earrings are everything you need to pop up your sangeet look. They come in colour palettes that are perfect for the lively theme of sangeet.
LOTUS MOTIF EARRINGS BLEND EFFORTLESSLY WITH MODERN AND TRADITIONAL ATTIRE
Floral jewellery
If you prefer a more natural look on a Sangeet, floral jewellery is your best pick. You can customise Floral jewellery with your favourite flowers any way you like. They are not only cheap but very lightweight. Floral jewellery draws a lot of interest for wedding-related events, like Sangeet and Mehndi, because of the sheer range of the use of flowers. You can get everything made using flowers, such as earrings, necklaces, headbands, rings, bangles etc.
Kaleeras and bangles
A sangeet is not complete without kaleeras and traditional bangles. Several different types and styles of bangles are available in the market, but they fall well short in the extravagance that an Indian wedding demands. This is one classic jewellery item that cannot be taken for granted, especially at a sangeet event where beauteous kaleeras make for an integral part of the overall bridal look. This evergreen and traditional ornament has evolved with fashion trends, but the authentic Indian aura of it is still packed into the very design. Kaleeras with pom-poms and other embellishments are a big favourite in wedding events these days and are essentially a must-have.
Fancy Naths
Over the years, Nath—a traditional Indian jewellery item—may have become less of a visible feature at weddings, but it hasn't lost its distinct appeal. Nath uplifts any bridal jewellery set and brings out the beauty of facial features. After a period of lull, it's now on its way back, which makes for a perfect time to have it in your collection. Stand ready to be spoilt for choice, as designers have added more diversity in designs that cater to contemporary aesthetics without diluting the roots of this jewellery piece. Big Naaths made with gold and Kundan are back in trend this wedding season and will be the best finishing touch to your sangeet look.
NATH UPLIFTS ANY BRIDAL JEWELLERY SET AND BRINGS OUT THE BEAUTY OF FACIAL FEATURES
Get all your latest Traditional Indian Jewellery from Atiya Choudhury
Get these traditional Indian jewellery items from Atiya Choudhury — a famous Birmingham based brand. We offer a wide range of traditional Indian jewellery items that will take your Sangeet look to the next level. Atiya Choudhury is a fashion brand that brings authentic South Asian fashion and products to consumers in the UK and elsewhere. The intricate patterns, colours, glamour, and most importantly, a sense of luxury make up the brand's essence. Whether you are looking for Traditional polki necklaces or a wide range and styles of traditional bangles, Atiya Choudhury has got you covered. So, what are you waiting for? Head onto our website and get shopping!