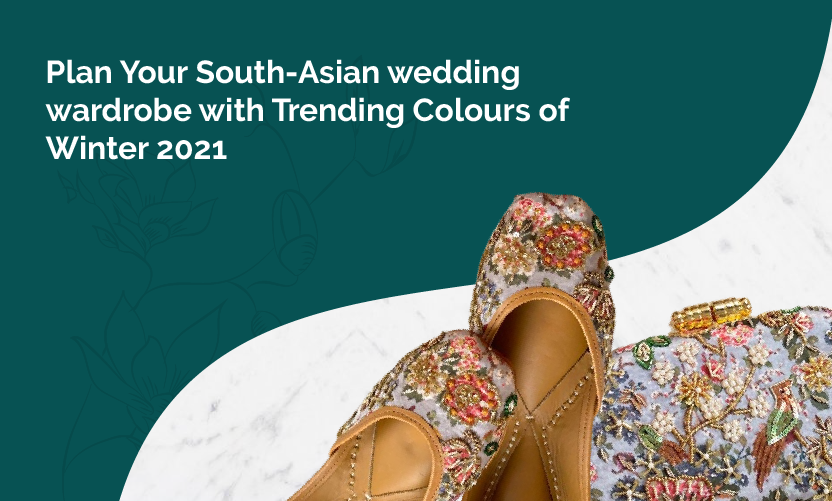 Plan Your South-Asian wedding wardrobe with Trending Colours of Winter 2021
Make your wedding outfit look special with the right blend of trendy winter colours. Here we will tell you all about the colours that you need to know.
Every season is essentially South-Asian wedding season. With wedding functions like mehndi, mayoon, reception, one can never have enough wedding clothes. Summers tend to draw relatively more wedding festivities, but due to the COVID-19 pandemic and the resulting reevaluation of social gatherings, many weddings have been rescheduled for winters this time around. As a result, it is all the more important to update your wardrobe accordingly, especially in the UK. You have to stay warm through the long South Asian winter weddings, but you also have to look glamorous, and with the right wardrobe, it is possible. We bring to you some of the best top trending colours for the season so you can perfectly coordinate and style your wardrobe for this winter season. From full sleeves, shawls, juttis to a lot more, this blog is your perfect guide to revamp your winter closet. Before jumping onto the trendsetter colour schemes, let's go through the essentials for an Indian winter wedding wardrobe.
YOU HAVE TO STAY WARM TO GET THROUGH THE LONG SOUTH-ASIAN WINTER WEDDINGS, BUT YOU ALSO HAVE TO LOOK NO LESS GLAMOROUS
Must-Haves for your Indian Winter Wedding Trends
Preparing your winter wardrobe for South-Asian weddings can be difficult, but with the help of this guide, you can easily pick out the things that best suit your style.
Wear Full sleeves
Everyone loves wearing new cuts and patterns at weddings, but for winters, we have to do away with the flared frill lehengas and the deep neck sleeveless Patiala suits. Instead, try getting full-fitted sleeves on your wedding outfits. They look as chic as sleeveless or half sleeves, and they save you from feeling cold. Full-sleeves look ravishing, especially when you have them with full gowns, frocks or Anarkali dresses.
Straight cut-pants
Wear straight-cut pants made out of warm materials under open A-lined gowns or maxis. Straight cut pants with open shirts or dresses give you an overall look of great finesse and elegance that is sure to make you look apart.
Add the glamour of Velvet
Surviving weddings in winters is one of the biggest challenges. We have seen the millennials thoroughly experimenting with their fashion choices, especially brides. From ditching the heels and wearing sneakers to adding a faux fur shawl and wearing a blazer with a lehenga, there are so many things brides are doing to stay warm. This is where velvet enters the picture. You can never go wrong with Velvet, whether you make a saree, a fancy gown or a straight shirt out of it. Velvet gives you both glamour and warm cosiness, making it a great fit for winter weddings. You can try layering or adding velvet shawls to your existing outfit for different styling. In wearing this soft tufted fabric, you will look uniquely effervescent at wedding events.
VELVET GIVES YOU BOTH GLAMOUR AND WARM COSINESS, MAKING IT A GREAT FIT FOR WINTER WEDDINGS
A High Fashion Indo-Western Jacket to Add an Oomph to Your Look
If you want to try something truly novel, add a fancy Indo-western jacket to complete your look. This will not only look trendy, but it will also keep you warm. This easy-going fusion is one of the most trending looks this season.
Punjabi Juttis
You always have the choice of ditching the regular uncomfortable heels and wearing your traditional Punjabi juttis. Punjabi juttis are traditional but versatile and never go out of style. They evolve with fashion trends but yet remain faithful to traditional roots. They come in a range of colours, designs, shapes, and sizes, with special winter options, so you will look exquisite and remain warm throughout the event. At Atiya Choudhury — a famous Birmingham based brand — we bring cultural Punjabi juttis to our customers in the most authentic way. Our luxurious Juttis are handcrafted to perfection, and each pair is uniquely made with great attention to detail. So, get your Juttis now and make full use of them this winter wedding season.
PUNJABI JUTTIS ARE TRADITIONAL BUT VERSATILE AND NEVER GO OUT OF STYLE
Know the right Shades
As most people would say, Indian winter wedding trends call for dark tones; however, you don't worry about the shades as long as you use fabrics that keep you warm and go with whatever shade you think suits you best. Trending this season are the pastels, with whom you can carry long dresses pretty well. These colours scream sophistication and elegance, especially if the wedding is outdoor. The sun will keep you warm and make the colours of your outfit and accessories pop out. You can keep the dark shades for indoor or nighttime events and wear the light or pastel hues during daytime outdoor winter weddings. If your outfit's tones are on the lighter side, keep your makeup and accessories on the heavier side to look wedding-appropriate.
Let's dive deeper into this season's top trending colours so that you can further perfect your wedding outfits.
Trending Indian Winter Wedding Colours 2021
Orange
A very trendy choice of colours for South-Asian winter weddings in 2021 is orange. The colour is every bit vibrant and happy in its unique way. It's an excellent replacement for the old yellow decor that we've seen around in the last few years. Not only does it give you a flamboyant feel, it is also just the right tone for a super-chic elegant look, which is perfect for all your mehndi mayoon functions.
Burgundy
Burgundy is a sultry red colour that looks stunning on everyone. It has been more popular for cool months, such as winter or fall, although it can also be used during warm seasons. During the winter, create a mixed palette of burgundy with deep blues and purples. In other seasons, you can mix your colour palette with lighter shades, for example, ivory or white and plenty of greens. These colour schemes are ideal for letting loose your creativity and conceiving combinations that reflect your individuality at wedding events.
Yellow
Yellow is the liveliest colour one can think of, and it brings out the best in all of us. Whether it's decor or outfits, marigold yellow has outshone every other colour in Indian pre-wedding functions. From Sangeet ceremonies to Mehendi and Mayoon events, marigold has been the most spotted colour. It's a very fresh colour and an enduring reminder of youthful energy, and you definitely need to add it to your wedding mood board.
FROM SANGEET CEREMONIES TO MEHENDI AND MAYOON EVENTS, MARIGOLD HAS BEEN THE MOST SPOTTED COLOUR
Blue
Blue dominated 2020 weddings with its subtle and chic magical vibes. We loved how brides and wedding guests incorporated the stunning shades of blue in their wardrobe selections and carried the look. Whether it's bright blues or Pastel hues, they all work well in every season. The Pastels are summery, breezy and give a touch of elegance. But, at the same time, the bright blues make you stand out with every bit of glamour. We'll be seeing a lot more blue wedding aesthetics in the upcoming winters as well.
Pastels and Pinks
The pastels have been all the rage this year, and one can only expect to see a lot more of it. The trendy blush pink has been making rounds in the South-Asian wedding circles, and why not! This colour is pretty in every sense of the word; it compliments every skin tone and makes you stand out and look chic. Blush Pink straddles the right balance of aesthetics and is great for both indoor and outdoor Indian winter weddings.
BLUSH PINK STRADDLES THE RIGHT BALANCE OF AESTHETICS AND IS GREAT FOR BOTH INDOOR AND OUTDOOR INDIAN WINTER WEDDINGS
Shades of Purple
Purple has almost always been in vogue for weddings, but there has been a noticeable uptick in the use of this colour of late. It's ruling the latest designer collections as well as the wedding trousseau, and it's not a surprise. The colour is striking and regal, and it beautifully complements the overall winter vibe. It's one of those colours that takes a backseat during summers but swiftly comes back in the winters and makes its presence felt, particularly at Indian winter weddings. The existing lilac and lavender are also a good pastel tone of purple. Lilac and lavender are both different shades of purple, and it remains in trend. We have seen quite a few lovely lavender wedding decor ideas as well as lilac dresses. Apart from lilac, mauve is another rich and royal hue purple that gives you an exquisite touch. From makeup to outfits, Purple is a lovely choice to include in your winter wedding wardrobe.
So what are you waiting for? Look up Atiya Choudhury's diverse collection and get your hands on the most perfect colours to revamp your Indian winter wedding wardrobe in line with the latest trends!