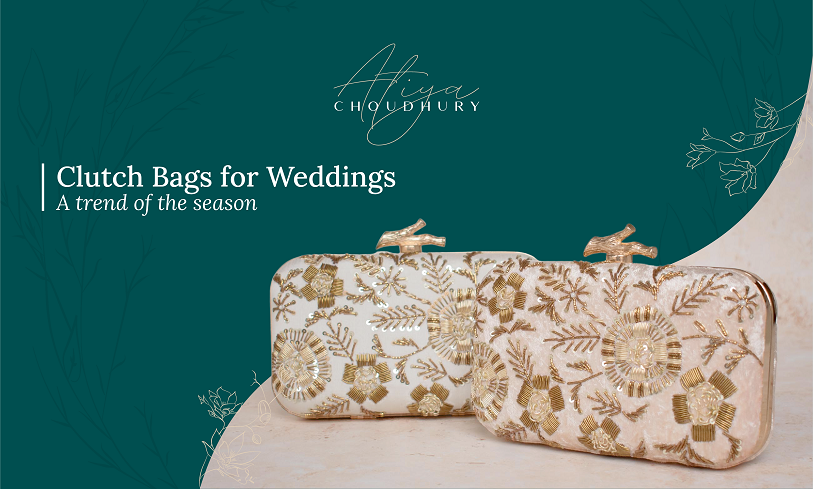 Clutch Bags for Weddings – A trend of the season
As the wedding season begins, so does the shopping spree. Women approach their tailors and designers, go to shoe stores and jewellery shops, and make a range of purchases to get their attire ready. In all this, a clutch bag plays a vital role in making or breaking the look. A clutch bag is a great statement accessory that ties your entire outfit together and throws in a hint of vibrance and fun. They are also perfect for storing all your go-to makeup touch up essentials because who doesn't need to freshen up their look when attending a Desi South-Asian wedding, right? And considering that your clutch bag might make an appearance in some of your wedding photos, you should certainly have the trendiest one. With so many options available in the market, it gets hard to select which one is right for you. But, whether it's your wedding or simply attending a wedding as a guest, we have you covered. We will take you through the list of classic and fun clutch bags for weddings this season and give you tips on selecting the perfect one for yourself.
Trending South-Asian Clutch Bag Designs
We have narrowed down some of the trendiest designs in the market that will make you shine this wedding season and pull together your entire look. Whether you like it traditional or modern and minimal, we have it all. 
Wooden Clutches
Wooden clutches usually give out a very modern and western vibe, and they have been the most popular this season. Still, with Atiya Choudhury's collection of wooden handbags, you will have the right amount of traditional aesthetic incorporated in the wooden handbags you need. Atiya Choudhury is a South-Asian fashion brand that offers clothing, jewellery, accessories and a range of other beautifully crafted products. Atiya Choudhury is based in the multicultural city of Birmingham, the UK. 
Wooden clutches have gained much popularity in recent years. They are handmade and delicately crafted, and the hand embroidery gives it a desi South-Asian touch. They also come with works of meenakari, sequins, pearls, tassels etc. In most cases, they come with a detachable chain so you can style it up in whatever way you like. They are not only trendy but also very spacious and can fit all your essentials before you attend the wedding event. They are the easiest to match with any kind of outfit. They will be a perfect fit for your attire, especially if you are going for solid colours or if they have a hint of gold or copper in them. 
Flap Clutches
Flap clutches are chic yet classic. You can get them in several different styles and designs with embellishments like pearls, tassels, hand embroidery etc. You can also find flap clutches in a minimalistic design and heavy embellishments, making it convenient to customise based on the look of your attire. Flap Clutches look stunning with fancy shalwar kameez or a straight shirt and trousers. They even work wonders with a modern western outfit like a fancy wedding jumpsuit or flapper trousers. They may look slim and minimal from the outside but highly spacious, and you can easily fit your phone inside, wallet, keys and all bare essentials. This clutch bag is truly a glamorous showstopper! 
Potli Collection
Potli bags are trendy yet traditional types of bags. They do not only make you stand out and supplement your look but also convey delicacy and simplicity. Potli bags look stunning with traditional desi South-Asian outfits, especially if they are well-contrasted with your dress. They look best when carried with traditional ghararas, lehengas, shararas etc. They have evolved much in design over the years but have always stayed in trend. 
Most Potli bags are made of rich materials like velvets, georgettes and silk. The dazzling mirror work or embroidery makes them more appealing and exquisite. The best thing about these bags is that you can as easily pair them with Indo-Western wedding outfits as you can with traditional desi wedding outfits and look like a million bucks. The extensive Potli collection at Atiya Choudhury will meet your wedding needs.
Clip Purses
Clip purses are the perfect choice for a summer outdoor day wedding. They are easy to carry and small in size. So, if you are someone who doesn't like to have too many things in a purse or likes smaller purses in general, clip purses are the way to go. They come with extender chains to carry as well, so you can style them whichever way you want. The best thing about clip purses is that they go with just about every wedding outfit, whether you're wearing a lehenga, a straight shirt, a long dress, or an Indo-western jumpsuit.
Trendy Brass Clutch Bags
Brass clutch bags are the classiest bags you can have in your wardrobe. They have beautiful designs handcrafted by traditional artisans and give your entire look a very vintage aesthetic. They go best with black and white outfits. As a bride, if you have a modern, minimal take on your outfit, this brass clutch bag would tie everything up together. Brass clutch bags come in shapes such as square, cylindrical, spherical etc. Atiya's handcrafted brass clutches come with the most intricate details. They are the perfect statement piece that looks stunning with South-Asian and western attire.
Minimalistic Resin Clutches
There has been tremendous hype about resin over the past few years. They are widely used in home decor, jewellery, furniture, and many other accessories, but their utility has made inroads into fashion as well. Rest assured that nothing can go wrong with hand-poured resin embellished with sequins, stones, beads and pearls. They will look stunning on a weekend wedding with an elegant saree or a beach wedding. They are modern, minimal, yet very classy. Even if you are not into a resin clutch bag look, there are still options, as they also come in a half-and-half design with embroidered fabric and resin outline—a fusion of contemporary designs with traditional embroidery. With resin bags, you can pull off any look, whether indo-modern or classic. So what are you waiting for? Keep it elegant but contemporary by adding a little sass to your look. Resin clutches are a beautiful statement piece that is a must-have.
Tips and Tricks for Selecting the Perfect Handbag for Indian Weddings
Compare and Contrast
Remember to never get a clutch in the same colour as your dress; always compare and contrast and go for the colours that compliment each other the best. It is not about how much the clutch matches your outfit but about how practical, stylish and appealing it overall looks with the attire you are going to be wearing. 
At the same time, also keep in mind to give attention to details and embellishments on the clutch you are looking to buy and how well the embellishments and embroidery matches with your outfit to achieve a cohesive look.
Details matter!
Planning a wedding dress takes up a lot of time, even if you just attend one event. If the wedding is themed, you need to pay as much attention to details as you can. Coordinate your dress to the theme and make sure your handbag or clutch bag is the right fit for the occasion. For example, for a vintage themed wedding, a brass clutch bag would look exquisite, and for an outdoorsy mid-day wedding, a resin clutch bag would be ideal. 
Don't limit yourself
Most people would go for traditional colours and designs that women have been carrying for years when shopping. These typical colours include the likes of reds or ivory, but you should keep an open mind while shopping. With changing trends and innovations, you can pull off any kind of clutch bag if chosen right. Don't be afraid to experiment with new styles and colours as long as they contrast nicely with the colour of your dress. 
Reusability
While shopping, keep in mind, clutches are an accessory that can be reused with almost any type of look even after you've tied the knot. So, don't worry if the clutch is a little out of your budget. Think of it as an investment, which you can keep using for years to come.
Getting the size right
One of the most crucial technicalities to consider is how big you want your clutch bag. It all depends on what you think your essential items are going to be during your wedding or when attending one. Some of the get-to things could include: 
Your phone

Lipstick

Some tissues

Keys

Wallet

Compact mirror
You also should keep in mind that the size of your bridal handbag is supposed to be comparatively smaller than general handbags, so it does not take away attention from your wedding attire. 
Glam it up with Atiya Choudhury's Designer Handbags
Keep in mind all these tips while choosing your traditional clutch bag, and you will indeed find the perfect match. At Atiya Choudhury, you will find an extensive collection of classic and fun Clutch bags in all ranges and designs that will surely catch your eye. You can even get them personalised according to your needs! Atiya's clutch bags come with intricate patterns, colours, glamour, and, most importantly, a sense of luxury that will surely amp up your entire look. It showcases a distinct luxury that is unmatched. Atiya Choudhury brings this beauty and luxury to its customers in the most authentic ways. Therefore, the products at Atiya Choudhury are more than just fashion pieces; they are entire experiences that amplify the personality and individuality of the person. 
So what are you waiting for? Head on to Atiya Choudhury's website and experience the South-Asian luxury fashion!