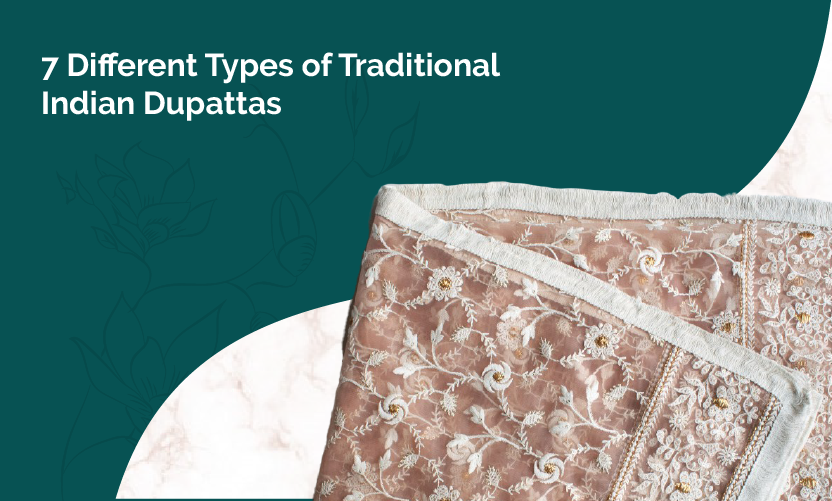 7 Different Types of Traditional Indian Dupattas
Dupattas are as South Asian as they come, and you can look your best with these 7 types of Dupattas.
Dupatta (also known as Chunri, Orani, or Chunni) has a distinct cultural significance in South Asia. In many ways, it is equivalent to a scarf but more elongated and with an orientation towards fashion. It is typically made up of lightweight material and sometimes adorned with embroidery or ornaments to amplify its beauty. Dating back to the early days, Dupatta was used by women as a covering cloth for the head and shoulders to display modesty and respect. However, as social values have evolved over the years, the dupatta has grown to take a more fashion-oriented place in culture, and that is what we will be discussing here.
A Dupattas is a simple yet effective way of adding more elegance to an outfit. It is an addition to the outfit that goes with most South-Asian traditional wear and ethnic wear. Whether it's lehenga choli, frock style, Punjabi suit, churidar, palazzo, designer salwar kameez, an ethnic skirt, top, tunic, or ready to wear clothes, you can add and style your Dupatta with them all. What's more, you can also repurpose the Dupatta to blend with western wear.
Nothing changes a look faster than the fabric you choose for a dupatta and how you drape it. You could have worn an outfit before, but change up the drape, and it will look like a spanking new outfit. Even for brides, adding a net dupatta or re-draping an old one is a sure-fire way to stand out. Wearing your dream outfit at a special occasion may seem like a lovely thought, but it won't be complete without a traditional South-Asian dupatta. We have compiled a list of top trending dupatta types and complementing draping styles that you can try this season!
A DUPATTAS IS A SIMPLE YET EFFECTIVE WAY OF ADDING MORE ELEGANCE TO AN OUTFIT
Types Of Dupattas
Dupattas add a touch of traditional elegance to your outfit.
Chiffon Dupatta
Chiffon is a lightweight, sheer and beautiful organic fabric that is very easy to carry and drape in different styles. Chiffon Dupattas are ideal for lighter embroideries, like machine-work or gotta Patti, stitch line details, fabric manipulations and other surface techniques. They can be adapted to both casual and formal outfits with minimal effort, which especially makes them an excellent pick for pre-wedding functions.
Net dupatta
If there is a dupatta that is easier to carry than Chiffon, it is Net dupatta. They are, however, not as light as chiffon dupattas because of the many gems and intricate embroidery that often comes with the fabric.
The Net material compliments both plain dresses and more dressy ones and can be worn during winter and summer. The most beautiful thing about net dupattas is a floral patchwork or chikan Kaari. These types of dupatta designs are most common among women these days. If your dress is comparatively heavier and full of embellishments or embroidery, then a Net dupatta will be the perfect combination.
IF THERE IS A DUPATTA THAT IS EASIER TO CARRY THAN CHIFFON, IT IS NET DUPATTA
Organza Dupattas
Organza is a thin, plain weave, sheer fabric traditionally made from silk, which finds roots in the former Afghan Turkestan. These days, you can also find modern organzas made from synthetic filament fibres, including polyester or nylon. It is translucent and has a soft sheen to it. Organza's material is lightweight and breathable. It drapes well, so it is straightforward to manipulate and structure it in any way you want; however, it can get slightly more expensive. Hand-painted organza has been gaining a lot of popularity lately, so it's the best time to try it out.
Silk Dupattas
For a more vintage look, Silk dupattas are a great option. They can be worn with a range of outfits, from the simple ones to the more dressy ones. This is because they tend to carry heavy embroidery in the design, which uplifts the entire look. Like cotton, Silk is a natural and very breathable fabric and can be worn throughout the year.
SILK IS A NATURAL AND VERY BREATHABLE FABRIC AND CAN BE WORN THROUGHOUT THE YEAR
Georgette Dupatta
Georgette dupattas are heavier than chiffon dupattas with lots of embroidery and detail. They work best with more elaborate dresses. When coupled with light lace works, Georgette dupattas look all the more classier and chic.
A Georgette dupatta comes in several different colour designs, such as pastels, solids, the embroidered effects of Gresham, or sequined motifs. If you intend to pair it for heavy salwar dresses, go for borders in gotta, thread work, heavy metal embellished borders or cutwork. You can also use a Georgette dupatta with Kurtis and Anarkali dresses.
Cotton Dupattas
Cotton is a fabric that is unmatched in its comfort and versatility of use, and Cotton dupattas are a timeless classic. Since the fibres are made from cellulose, dye prints and colour will be relatively permanent, which helps maintain a consistent quality every time you wear it.
Cotton dupattas can enhance your wedding outfits and be used as everyday casual wear at the home or the workplace. These are usually printed dupattas with a standard tie and dye print; embroidery is a rare sight. Cotton dupattas are your perfect choice if you plan to wear your Punjabi or Patiala dress to a wedding event.
COTTON IS A FABRIC THAT IS UNMATCHED IN ITS COMFORT AND VERSATILITY OF USE
Velvet Dupattas
Velvet Dupattas, also known as velvet odhnis, are thick and best worn in colder and winter months. The material is highly durable, which allows it to take the weight of heavy embroidery, gems, and other embellishments.
Velvet has a regal feel to it and is a bride's dream come true, especially for a winter wedding ceremony. A complete velvet pick can be somewhat hard to carry as a bride, so going for a mix and match of velvet dupattas with prints over another fabric is the best of both worlds.
VELVET HAS A REGAL FEEL TO IT AND IS A BRIDE'S DREAM COME TRUE
Get Your Traditional Indian Dupattas from Atiya Choudhury
Dupattas are an essential part of every Desi woman's wardrobe. They are the perfect statement piece to pair up with your favourite dress, lehenga, Kurti, and so much more. The diverse range of dupattas by Atiyas Choudhury is what you need to complete your outfit.
Atiya Choudhury is a famous Birmingham based brand that offers you an authentic South-Asian fashion experience. Our dupattas are designed by some of the most talented artisans and once you try them, they will add next-level style to your entire look. They have a touch of luxury and class, making you ready for every event. So what are you waiting for? Head on to Atiya's website and get shopping!